Aqua Turf International (ATI) has decades of experience in golf course irrigation on both existing courses and new golf courses. No matter where you are in the world we have offices and staff nearby prepared to meet your needs. We have designed systems on every continent under every condition for world-leading architects. Our plans and bid documents are available in multiple languages to avoid confusion. We understand the importance of getting the most from your irrigation investment. Our team offers you the experience to help adapt our plans to meet your budget and will work closely to help you make the right decisions when it comes to your irrigation planning and design. Below are some of our design philosophies and you may also refer to our blog for more articles and information.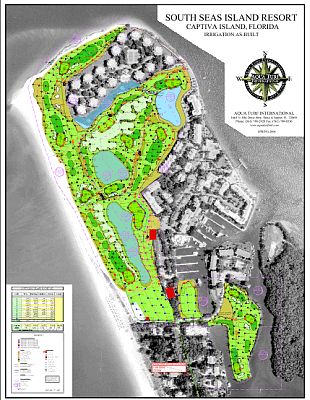 Budget – ATI works with our customers to develop a budget that is in financial balance with the scope of their business. We will explain the long-term savings and benefits from quality materials, installation, and design techniques or the potential cost from the lack thereof. In some instances, especially renovations, the system can be designed to be installed in phases to help match the diverse capital requirements of the club.
Coverage and Sprinkler Efficiency – Over or under-irrigating greatly detract from the golf experience as well as has a direct impact on turf quality. The sprinkler spacing, placement, and coverage are critical elements to ensure uniform water application. Sprinkler spacing is chosen based on the CIT test data with an emphasis on uniformity and efficiency along with adjustments for budget, local weather, and soil conditions. Triangular spacing is maintained as much as possible. ATI will work with the architect or club to identify the irrigated area and investigate ways to reduce the coverage area. Environmental sensitivity and water use efficiency are promoted. Dual part circle sprinklers are designed on greens in a method designed to reduce over-watering the approach. This area is critical to the proper playability of the course.
Pump Station – All factors are considered to provide adequate pressure and flow within a water window that promotes healthy turf and course playability. Local weather data is evaluated to determine the Evapotranspiration Rate (ET) so the pump can be sized to operate during the worst-case situation in the driest time. The pump station and mainline are sized for an eight (8) hour irrigation window or less unless budget considerations preclude it. Electrical power time in use restrictions is taken into consideration. Grow-in needs and a flushing factor for accumulated salts or weather factors are also considered as needed. Considerations will be made for any special fertigation, filtration, or water treatment needs. Non-golf irrigation needs should be evaluated at the same time. Independent pump systems for non-golf applications are recommended but can be housed together to help reduce some costs.
Control System – ATI is experienced in the design of satellite as well as decoder systems. We will review the costs, benefits advantages, and disadvantages with the Client to help make the decision to correct the control system for the project. The level of system control and mode of communication is based on budget, distributor service, local conditions along with the management practices and preferences of the superintendent. Wireless satellite systems are preferred unless precluded due to local restraints.
Wire – All wires as per local code and field wires are specified to be labeled and/or color-coded for ease in troubleshooting. Individual wires per sprinkler are specified for satellite systems. In this manner, sprinklers can be individually wired for added control or paired as needed in the satellite to reduce cost. The wire is sized to match the flow capacity of the system and field controllers.
Hydraulics – The pipe network is looped and adequately sized to reduce friction loss, pipe, and fitting wear to industry standards. The pipe is not oversized at the owners' expense to reduce design liability.
Piping – ATI designs with PVC or HDPE pipe to DIN or US standards as dictated by the site conditions and local market. An independent mainline located in the rough is preferred. Pipe may be installed via trenching or trenchless methods as dictated by local conditions and contractors. Both herringbone and looped lateral design styles are implemented based on the scale of the project and owner preferences.
Fittings and Connections – The highest quality fittings are specified to include mainline ductile iron fittings on PVC projects. Epoxy coating of the ductile iron is utilized in corrosive conditions if HDPE pipe is not an option.
Isolation Valves – A herringbone style design is used in larger systems. This reduces the total pipe length, decreases the lateral pipe size, and increases the flow capacity per hole.
Installation – Our specifications dictate consistent and adequate trench depth, minimal use of wire splices, acceptable trench compaction and turf restoration, plumbing and electrical workmanship, no material substitution, joint restraints versus thrust blocks on PVC pipe, code compliance, and more. Installation of the system should be monitored by ATI to ensure the materials and workmanship meet these specifications.
ATI site inspections allow for approval of payments, reduce change orders, coordinate with other contractors and keep the project on budget and schedule. Our specifications require a GPS or survey-grade "as-built" of all field components (sprinklers, valves, directional fittings, wire, controllers, splices, etc.) to be provided on a hole-by-hole basis as generated from the staking drawings provided by ATI working in conjunction with the contractor.
ATI works with the contractor to ensure the contractor provides timely field notes of the station numbers and other required data that is critical to the proper completion of the as-built and subsequent programming. An area scorecard per hole of the total area of greens, tees, fairways, rough, and bunkers is also provided. The sprinkler is specified. Finally, our specifications require the programming of the central computer to include the sprinkler and flow management data. Proper programming of the system is critical to ensure the system is set up to be operated as designed and most efficiently to reduce operating costs and shorten the water window.
Programming is best provided by ATI as the designer of the system. The computer graphics requires preparation of the as-built drawing to specific AutoCAD standards that may not be prepared by those unfamiliar with the specific irrigation software.