Aqua Turf International (ATI) provides various mapping services consisting of precision GPS irrigation mapping, golf course aerials, and contour services to assist superintendents and general managers in golf operations and as well golf architects' design and planning. Superintendents will find these tools helpful the educating and communicating with the staff and members about their golf course. General managers will find the visual aid of an aerial or GPS map useful in board meetings and with members and owners.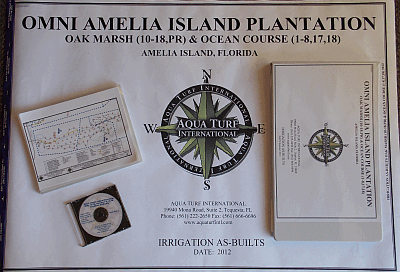 The square footage calculations of each area will provide valuable information during chemical, fertilization, and irrigation applications. Irrigation as-built drawings provide an extremely important tool for the maintenance staff and the irrigation technician during system operation, programming, troubleshooting, and repairs. Highly accurate greens contour mapping can be very useful during greens reconstruction so the greens can be returned to their exact original contours.
An accurate as-built map is an extremely important tool for the maintenance staff of golf courses, parks, athletic fields, or other large landscape projects. ATI uses sub-meter and centimeter accuracy GPS to create high quality:
Golf Course Base Maps
Landscape, Athletic Field, and Large Commercial Property Base Maps
Irrigation As-Built Drawings
GPS Green Contour Mapping (Centimeter)
Central Computer Map Creation
Yardage Tags and Books
For a golf course, the drawing starts with a base map of the golf course features including greens, tees, fairways, bunkers, turf limits, landscape/native vegetation, lake perimeters, streams, roads, and parking lots. The location of all golf sprinklers, field satellites, specialty valves, isolation valves, mainline piping, quick couplers, wire splices, and other installed irrigation components can then be incorporated into the base map.
The contractor or golf course staff are utilized to provide field notes along with ATI field observation in order to add the lateral pipe routing and size, wire routing and size, sprinkler station numbers, and dimensions to valves and wire splices. The data is prepared in an AutoCAD fashion so it is compatible for import into all irrigation manufacturers' irrigation control software.
A scorecard view of the total area (square feet or meters) of greens, tees, bunkers, and fairways per hole is provided. The as-built drawings will be provided in color on individual sheets at industry standard scales, scaled to fit on a single sheet ready for wall mounting plus 11"x 14" color laminated sheets per hole bound in a book format. The data will also be provided in a digital format. A GPS map can also be the first critical step in preparing a renovation plan for an existing facility.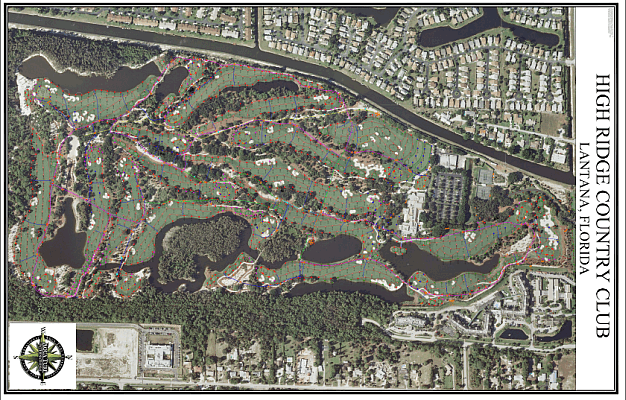 Aerial Photography can be incorporated into the as-built to enhance the visual quality. This accurate GPS data can then be used to prepare yardage tags and books.
GPS Green Contour Mapping
On some courses, it is important during greens renovation to rebuild the green to the exact contours. ATI utilizes precision GPS technology to attain all green topographic information at 1/10th foot contour intervals on the putting surface including 5-10' off the green surface.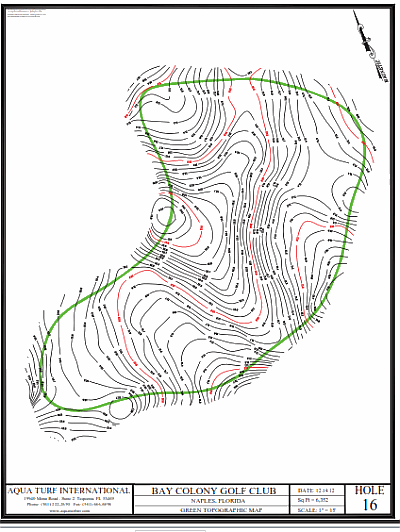 Central Computer Map Creation
Any of the above services can be incorporated into a central computer map for all irrigation manufacturers' software. Also, an aerial can be added to your central computer.
Yardage Tags and Books
The GPS data can be used to measure distances for yardage tags and the tags provided as well as yardage books.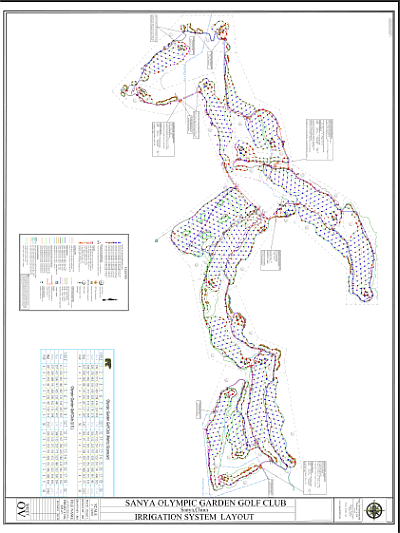 Contact us for any questions on GPS irrigation mapping
Contact the ATI office near you for more details on how we can meet your mapping, as-built, and aerial photography needs.