Jim Schumacher
Jim functions as company President while managing the Bangkok, Thailand office. He founded Aqua Turf International in 1996 after a diverse and successful career in golf.
As a teenager, he developed his love for golf and was the 1974 Arkansas State High School Golf Champion. As a result, he chose to make golf his career and prepared with a Bachelor of Science degree in Turfgrass Management from Mississippi State University. After school, he started his career as a pro/superintendent at two clubs in Alabama and was a member of the Dixie Section of the PGA. After working as a pro and superintendent he decided to focus his career on the turf side of golf.
He acquired his construction and maintenance skills as the Deputy Director of Parks for the City of Huntsville, AL. In that role, he became a Certified Golf Course Superintendent and was responsible for renovating and operating two 18-hole public golf facilities, twenty-eight parks, and over 100 athletic fields. Also, he directed the installation and operation of the first computerized irrigation control system designed for parks in the eastern United States in 1985.
These experiences gave him a complete perspective of golf course construction, maintenance, and operations. Mr. Schumacher expanded his irrigation knowledge during a seven-year career as southeastern sales manager for Rain Bird Golf. While in that position Mr. Schumacher was directly involved in golf irrigation sales, field service, training, and product development. Mr. Schumacher has broadened his irrigation knowledge as a certified irrigation designer, licensed Texas Irrigator, and a member of the American Society of Irrigation Consultants.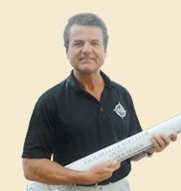 Sean Hyduk
Sean graduated from The University of Florida in 1998 with a Bachelor's Degree in Landscape Architecture. Sean's degree and experience in Landscape Architecture have been extremely valuable in developing ATI's landscape irrigation design services.
Before joining Aqua Turf International, Sean was employed with Couples Bates Golf Design as a golf course designer. He was responsible for golf course routing, conceptual design, construction drawings, full-color renderings, graphics, and AutoCAD operations. Prior to Couples Bates Golf Design, he was employed for three years as an assistant project superintendent with Landscapes Unlimited, LLC.
These experiences were highly beneficial in preparing him for his key role with ATI where he has been an irrigational designer and consultant since 2004. Sean's experience is advantageous to any irrigation project. His design responsibilities include owner and golf course architect relations, pre-consulting, complete irrigation design and details, material take-offs, specifications, bid documents, and bid process administration with contractors.
During construction phases, Sean coordinates with the contractor, provides onsite inspections, lays out the irrigation components, and provides site visit reports to the owner. Sean presides over GPS mapping, as-built development, and irrigation program services for ATI.