James Schumacher, President of ATI, recently visited Laem Chabang International Country Club in Chonburi, Thailand outside Bangkok to perform a System Analysis. Laem Chabang International Country Club is a 22 year old 27-hole Jack Nicklaus Signature Design. Even though the club is still one of the most popular courses in the area, they are wisely still looking for ways to improve the quality of the golf course and the operating efficiency at the same time. The System Analysis was needed to evaluate how the current system affects the turf and course playability whilst identifying any operational inefficiencies. After the System Analysis is complete a Long Range Plan can then be defined and budgets established.   The irrigation system, even though well designed for the time, is becoming a limiting factor to the turf maintenance program and wasteful in a few critical areas such as water power and labor. There have been many significant changes in irrigation technology over the last 22 years such as variable frequency drive VFD pump stations and control system enhancements that were not on the market at the time. The System Analysis and Long Range Plan will identify the weaknesses in the system and offer recommendations for improvements. Sean Quinn from Nicklaus Design will be making a visit to the course in the near future to advise on any course design issues that need to be addressed as well.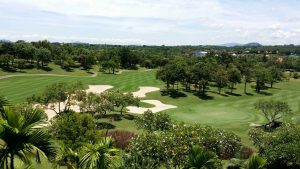 During the site analysis, the entire system was inspected and the following criteria evaluated:
Water Sources Water Quality and Availability
Water Storage and Irrigation Requirements
Pump Stations
Pipe, Fittings and Valves
Sprinklers and Coverage
Control System and Wiring
Desired Standards of Operation
Original Installation
Maintenance Procedures and History
System Performance, Reliability and Limitations
Turf Needs and Soil Conditions
Laem Chabang International Country Club has engaged the services of Mr. Hamish McKendrick to advise the course on their turf maintenance and general operations. He has been extremely valuable in guiding the course to a position to enhance its competitiveness with the new courses built since the club was established in 1994. He quickly realized that irrigation may be limiting and contacted ATI to provide the necessary irrigation analysis, consulting and design.